So your kids have finally got to the age where you want to get them to experience the great outdoors. But there's nothing worse than a tired and grumpy child so you need to make sure they get a good nights sleep whilst camping across the UK. Time for us to round up our fave picks from our kids range.
Night Time Temperatures in the UK
Once you know where and when you are going camping it's worth doing a quick Google search to see what the average night time temperatures would be. For example this link shows you the average temperatures in Windermere in July. From here you can get a rough idea of the temperatures the sleeping bag will need to perform at in the UK.
Now if you were shopping for an adult sleeping bag we would advise matching up comfort temperature ratings of the bag with the average night time temperatures. Unfortunately these ratings do not apply to children's' sleeping bags as there isn't an official standard and test available (scientists rightly decided it would be immoral to find out which temperatures children would start to suffer health problems). However some manufacturers do give advisory temperature ratings by comparing the construction of the bags and their use.
We always take onesies for our kids when going camping as it's a great backup if they get cold and very handy if they need to nip to the toilets in the night. Remember any temperature rating assumes the child would stay inside their bag which from experience doesn't always happen.
1. Vango Atlas Junior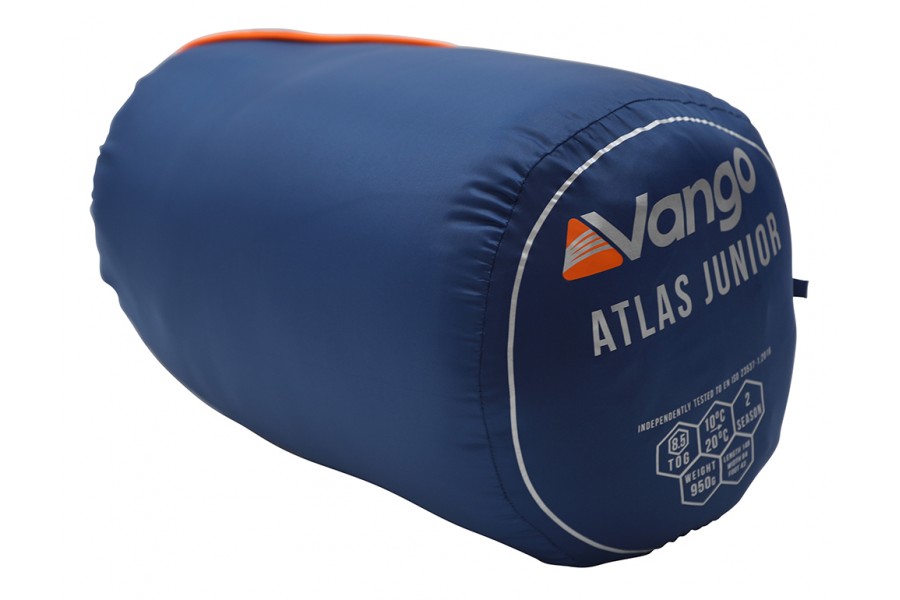 If you are looking for a good value sleeping bag to try out camping then the Vango Atlas Junior is a great choice. Vango's entry level Atlas range are made from polyester with a single layer fill to keep prices down. The Junior version is 150cm in length so it suitable for kids up to 145cm in size. Additional assurance comes from the fact that this bag is officially recommended by the Scouts Association for their camps. This sleeping bag has a comfort rating of 10 degrees so it's only recommend for peak summer camping in the UK unless you pair up with a onesie or some thick pyjamas. This bag is made from lower denier polyester so if your children are particular about textiles against their skin or you want a more brushed cosy feeling this may not be the bag for you. Currently available in 3 different colourways.
Pros
Great entry level price point
Recommend by the Scouts Association
Supplied with stuff bag for storage
Comes in three different colourways
Cons
High comfort temperature of 10 degrees so only for summer camping
Cheaper polyester inner and outer construction but reflected in price point
Single layer construction so potential cold spots around stitching
Buy Online
---
2. Highlander Shark Kids
If you have kids that aren't chopping at the bit to go camping this catchy sleeping bags may just win them over! Generally most patterned childrens' sleeping bags are poorly made and very thin really only made for sleepovers. However Highlander (a Scottish outdoor company) have designed this bag to look great but also perform in cold weather. So it comes with a comfort temperature of 6 degrees meaning you can use in late Spring and early autumn. The bag is made from 190T polyester which is entry level but the shark design has been applied by heat transfer which means it won't scratch off or crack like cheaper applications. One great feature is the storage bag which is also a handy matching backpack. If sharks aren't your kids things then it also comes in a ladybird or panda design.
Pros
Original patterned designs which are suitable for both girls and boys
Heat transfer print which means its more durable and long lasting
6 degree comfort rating so suitable for spring/autumn as well as summer use
Cons
Cheap 190T polyester materials used although inner material is brushed for comfort
Quite expensive bag but may way help persuade your kids to like camping
Stuff sack backpack can't be used to compress and so shrink down bag when in storage
Buy Online
---
3. Vango Kanto Junior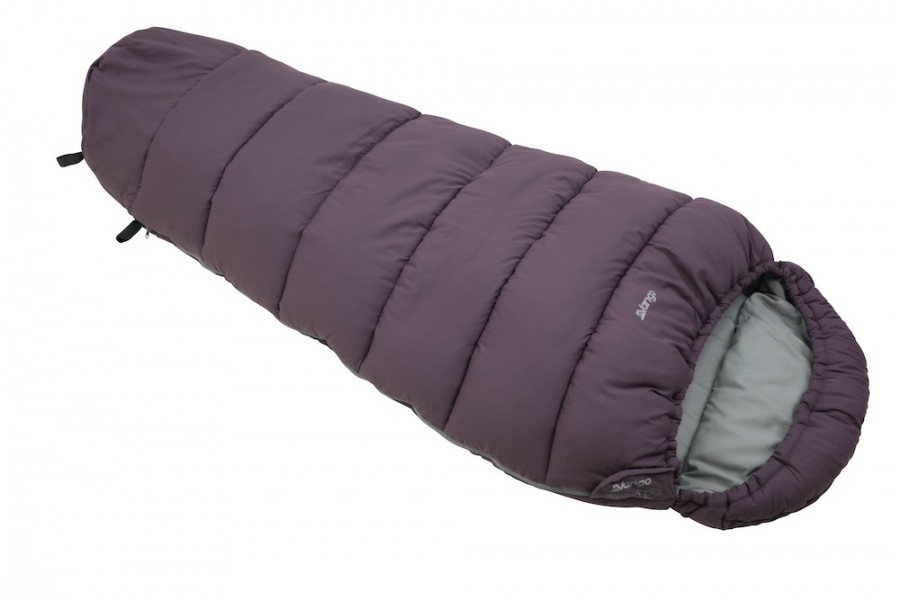 Vango's mid level Kanto range uses amazingly soft Polair® Snug fabric which is perfect for snuggling into. It also has additional filling in the hood of the pillow to act like a makeshift pillow. The bag has a zip protector to stop it snagging when zipping up and down and also a zip baffle which is an insulated filled strip of material which fits over the zip to stop drafts. It also has elastic rather then a drawcord around the neck for added safety.
Pros
Really comfy and cosy materials used on the outer and inner
Includes a zip guard to stop snagging and baffle to stop draughts
Elastic in hood rather then drawcord for safety
Cons
Still a single layer construction bag which can lead to cool spots
Max user height of 150cm so not for older kids
8 degree comfort rating so only really for summer UK use
Buy Online
---
4. Trespass Bunka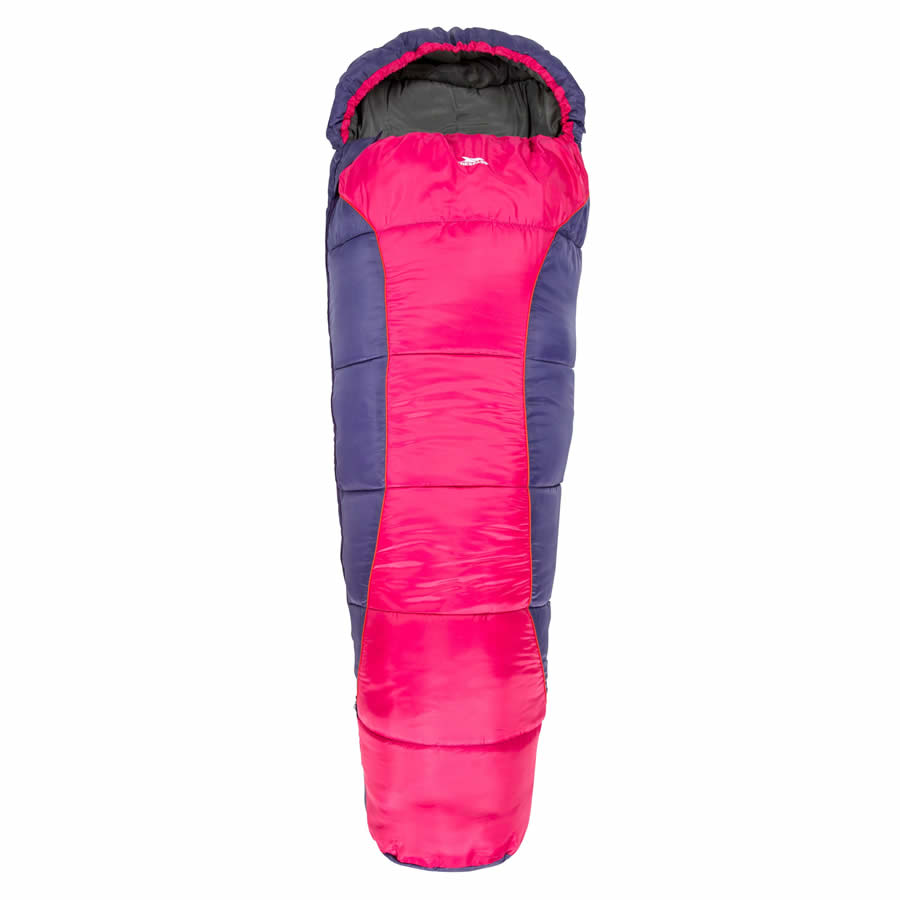 The Trespass Bunka kids sleeping bag has been around for a long time becoming somewhat of a classic. Available in multiple colours and patterns, it has the same construction across the range. This is also one of the few sleeping bags to have a polycotton inner. Now it's more polyester than cotton but is still great at this price point. The outer is made from ripstop nylon which stope tears from growing and also has a water repellent coating. With a comfort rating of 6 degrees this is also suitable for Spring/Autumn as well as summer camping. A handy internal pocket is great for letting the kids store their toys or cash.
Pros
Great value bag which includes polycotton inner material for comfort
Comes in a variety of colours and patterns to suit different kids tastes
Comfort temperature of 6 degrees for suitable for Spring/Autumn as well as Summer camping
Cons
Even though inner is polycotton its not super soft
Supplied patterns may not be to your child's taste!
Buy Online
---
5. Vango Nitestar Alpha Junior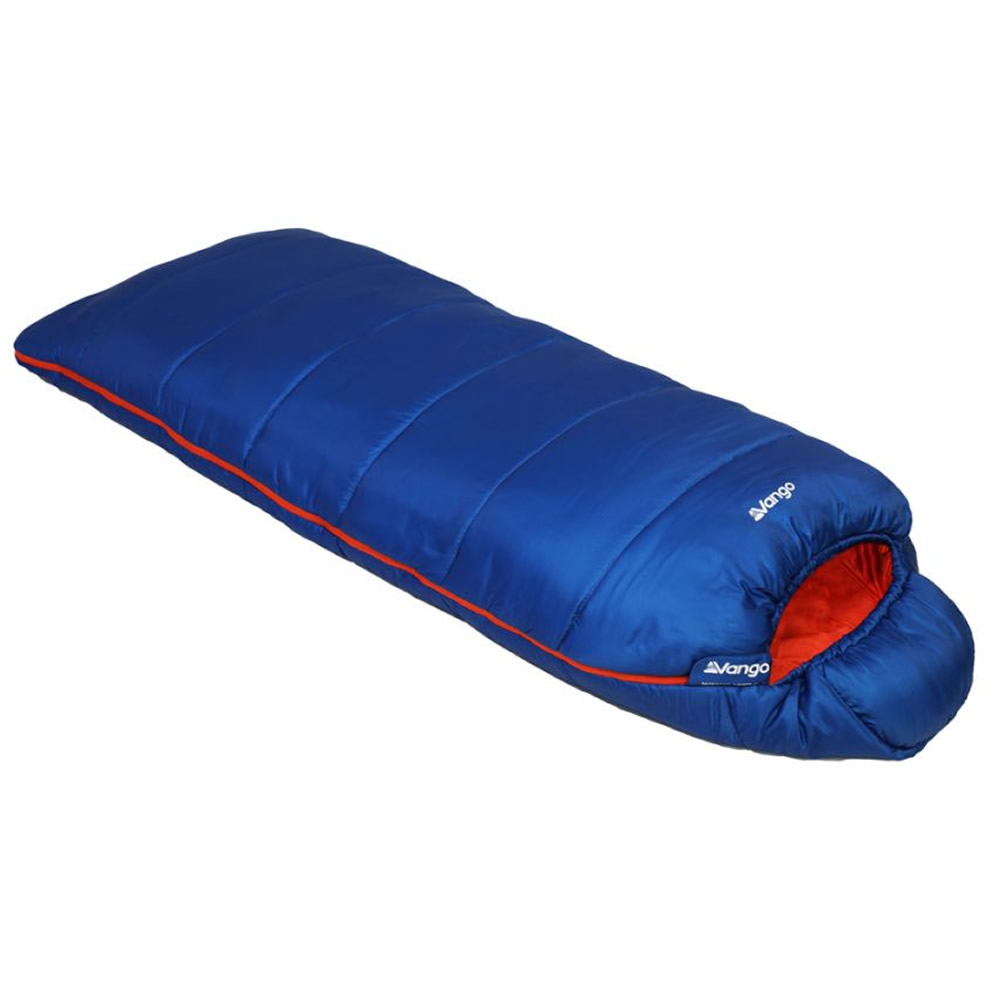 Now what makes this bag different is that it uses the same high performance materials and filling as the adult version of this bag. So this is a children's bag that is built to perform and to prove it has a comfort temperature of minus 2 degrees. So if your kids are budding hikers or you want to bag that can handle a cold snap in Spring this is the one for you. The dual layer construction combines two layers of insulation to minimise cold spots. It also includes shoulder and zip baffles to prevent draughts and keep the warmth in on cold nights. A handy internal pocket is perfect for storing a torch and it comes with a compression stuff sack so you can shrink it down small when needed.
Pros
High quality construction and materials like an adult bag
Dual layer insulation construction for better warmth retention
Includes zip guard and baffle and a shoulder baffle
Handy internal pocket for storing a torch
Whopping 2-3 season rating making it ideal for Spring/Summer/Autumn
Cons
May be too expensive for first time campers
Doesn't come in a variety of different colours
---
6. Vango Nitestar Alpha 250S
Another great Nitestar model from Vango, the 'S' in the title indicates that this is a shorter version of their classic 250 adult model. So not designed specifically for children but certainly ideal for taller children and teenagers who would be swamped by a standard size. So this bag has a max user size of 170cm (190cm normally) so perfect for kids that are 150-170cm in size. Duke of Edinburgh recommended its a quality bag with smaller sizing. The 3 season rating means it can be used Spring to Autumn without worries.
Pros
Quality adult bag in a shorter sizing
Duke of Edinburgh recommended
Dual layer insulation construction for better warmth retention
Includes zip guard and baffle and a shoulder baffle
Handy internal pocket for storing a torch
Whopping 3 season rating making it ideal for Spring/Summer/Autumn
Cons
May be too expensive for first time campers
Doesn't come in a variety of different colours
---
7. Outwell Junior Convertible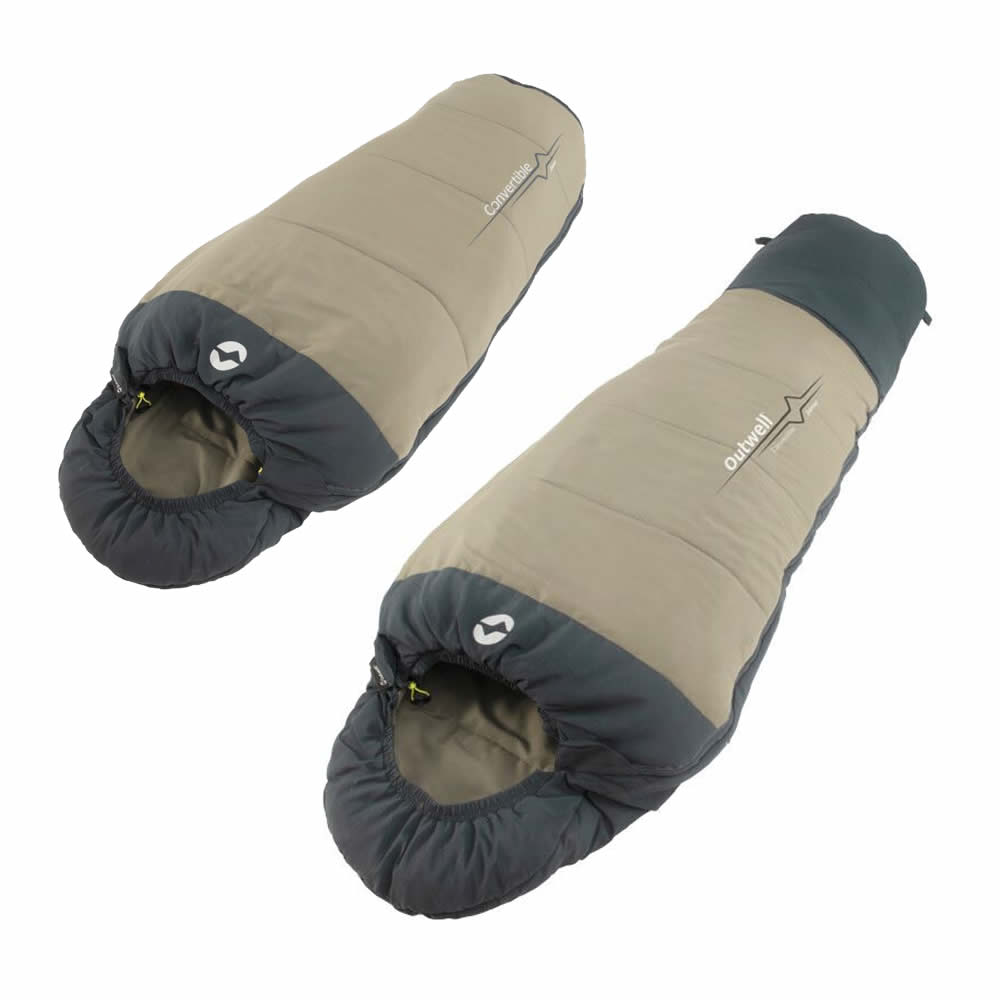 It can get frustrating when you invest in something for your kids then they go and have a growth spurt and it no longer fits! Outwell have solved this by developing a sleeping bag that extends when you need it to. So the sleeping bag is initially 140cm long but when you unzip the base panel it expands to 170cm! So this bag will last them right up to being teenagers.
Pros
Extendable from 140-170cm
Deluxe dual layer construction
Compression sack for shrinking down pack size
Cons
A more expensive option than others
8. Outwell Contour Junior
The Contour range from Outwell are unique in that each side of the sleeping bag uses a different amount of insulation. What this does is give you a very versatile bag – in colder weather you sleep with the thicker side on top of you and in warmer weather the thinner side! This allows this sleeping bag to be used in spring/autumn as well as summer camping. It also folds out like a duvet and has a removable pillow.
Pros
Dual season sleeping bag
Removable pillow for simple camping
Internal pocket for stashing essentials
Cons
Style can look a little dated
Pillow can get in the way with night wrigglers!
More Kids Bags From Our Store